Pablo Rivas
CEO & Founder
Global Alumni
Pablo Rivas
CEO & Founder of Global Alumni
"Finding the right moment to unlearn is key. How can we do this? The answer is simple: Wherever and whenever the task of unlearning must take place. You are better off acknowledging and adopting a positive attitude towards the idea of lifelong learning, as reskilling and updating our knowledge are imperative in these times of constant change."
"Finding the right moment to unlearn is key. How can we do this? The answer is simple: Wherever and whenever the task of unlearning must take place. You are better off acknowledging and adopting a positive attitude towards the idea of lifelong learning, as reskilling and updating our knowledge are imperative in these times of constant change."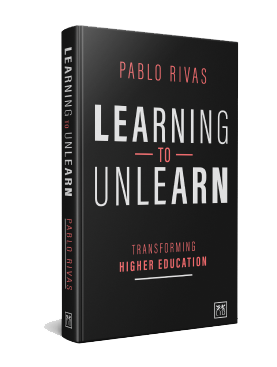 "After several years of leading Global Alumni and devoting my time to the digital transformation of some of the world's best universities, I believe that our disruptive contributions have had a huge impact on the transformation of education. In my book, I address how the current educational system has been influenced by technological breakthroughs on both a social and professional level and why the education system must continue to evolve. Only high-quality digital education will allow us to overcome the professional challenges of the Fourth Industrial Revolution."
Below you can read some of the thought-leadership articles I have written, and watch some of my television appearances discussing education in the midst of the digital transformation.
Having completed my undergraduate degree in Spain, I continued my professional education in the US (at UC Berkeley, Loyola University Chicago, and Harvard). After obtaining an MBA from IESE, I embarked on a journey to discover what is necessary to transform higher education, and how to do it, often wondering: "Why is it that the field of education remains on the sidelines while the internet is leading one of the most important developments for humanity?"
In a globalized world, with ongoing technological innovations discovering new opportunities every day, the field of education cannot continue to remain on the sidelines.
I founded Global Alumni six years ago, in response to this challenge. Today, despite still having a long way to go, I can assure you that our steps have so far led us along the correct path. At Global Alumni, we work with some of the world's best universities. We convey their culture and knowledge by overcoming language and geographical barriers. Thanks to us, thousands of professionals have updated their skills to meet the requirements of the Fourth Industrial Revolution.
I stand up for high-quality digital education. I believe this is the only way to reinforce workers' skills in the 21st century and to create a solid corporate fabric. Only then will we successfully overcome the challenges of the digital economy.
The technological revolution, economic globalization, and high-quality digital education: the three passions that lead my professional career and motivate me to continue along this exciting journey.
Most Innovative Business Leader
Pablo Rivas, CEO of Global Alumni, has been named one of the top 10 business leaders that will outstand during 2022 by 'CIO Views' magazine.
Pablo Rivas has been awarded a special recognition by 'La Razón' for being the Best Spanish Entrepreneur in 2021. The award (Tu Economía/Dinero y Negocios) is organized every year and has been granted to Pablo Rivas due to his career in the EdTech sector.
Best Spanish Entrepreneur
Best Initiative in Education
Global Alumni has been awarded the 2020 Best Initiative in Education Award in the X Edition of the Night of Economy, granted by the newspaper 'El Economista'.
Economic Leaders for the Future
Choiseul Institute – 2018
Economic Leaders for the Future
Choiseul Institute – 2019
Best Startups in the World
Nominated as one of the 100 Economic Leaders for Tomorrow, in two consecutive years, according to the Economic Leaders for the Future ranking by Instituto Choiseul.
Furthermore, Global Alumni has been selected as one of the top five startups from around the world, by EnlightED
Feel free to contact me via my LinkedIn profile, Global Alumni's social networks, or by email. I am always willing to talk about education, technology, and the global economy.
FLORIDA – USA
7950NW 53rd St
Miami, FL 33166
MASSACHUSETTS – USA
516 Mass Ave,
Cambridge, MA 02139
MADRID – ESPAÑA
Calle Acanto, 11
28045, Madrid
ILLINOIS – USA
450 Cityfront Plaza Dr
Chicago, IL 60611